2001 Tiger Shark
The Tiger Shark concept car was first shown to the media at the General Motors Special Vehicles Media Event at Milan Raceway, Michigan around August/September 2001. A 1997 Corvette Coupe serves as its foundation. (Corvette enthusiasts will note that GM chose the Coupe instead of the Z06/Hardtop body as the basis for this concept.) It's powered by a 7.0L (427 cu. in.) bored out Corvette LS1 V8. The engine is supercharged and intercooled with a Vortech 'T' supercharger and produces an awesome 742 horsepower at 6000 rpm and 690 lb-ft of torque at 5700 rpm.
Chevrolet made the public debut of both the Tiger Shark Corvette concept car and the Tiger Shark-derived accessory kit at the 2001 SEMA Show, held at the Las Vegas Convention Center from October 30th - November 2nd, 2001.
At SEMA, Jon Moss (GM special vehicles) explained that the Tiger Shark rolls on a modified independent suspension. Stopping power is provided by large Brembo racing brakes (14" front/12" rear). The custom 18" wheels on all four corners are Kinesis Motorsport K58 forged wheels with polished outer rim and custom painted centers wearing Goodyear F1 Fiorano tires. (Goodyear F1 Fiorano tires are OEM equipment on Ferrari models.)
To add an even more exotic look, GM painted the car in "Tiger Yellow" PPG paint. The carbon fiber hood, front fascia and rear fascia are custom as well as the modified coves on the sides. The Tiger Shark uses a Corsa Performance exhaust system. Shifting is handled by a 6-speed manual Borg-Warner transmission.
Wheel-to-Wheel, a Detroit prototype shop, was instrumental in developing the Tiger Shark Corvette concept car. You may recall that back in 1999, GM's special vehicles department also turned to Wheel-to-Wheel to develop the 450 horsepower "C5 Supercar".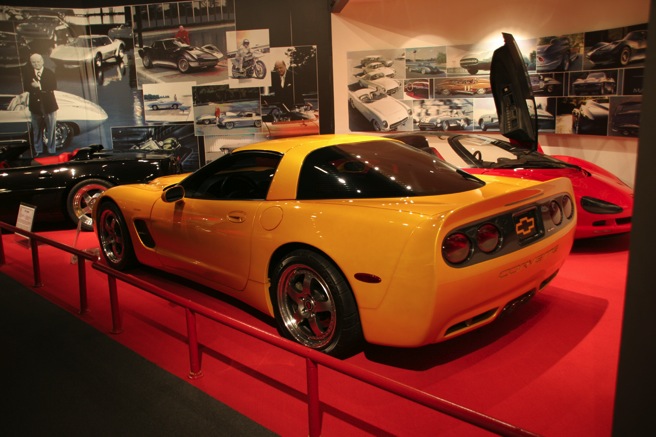 The Tiger Shark was one of the highlights of the "Hot Rod Power Tour" in 2002. It was also displayed at the official Corvette 50th Anniversary Celebration on June 27-28, 2003 in Nashville and the FunFest 2003 in Effingham, IL, September 19-21, 2003. Most recently, it was showcased at the Daytona Turkey Run on November 27-30, 2003.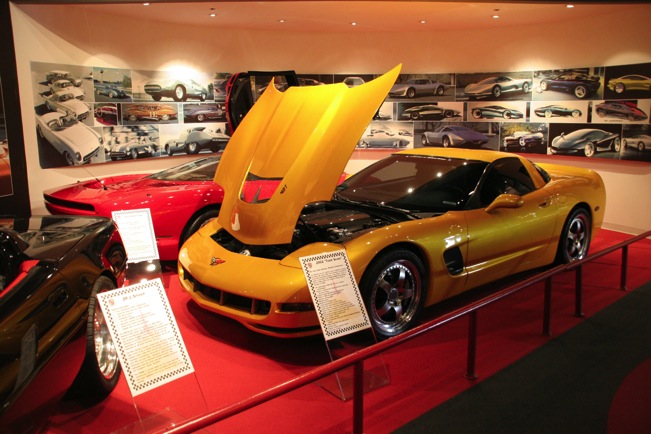 Thanks to "Tiger Shark" on www.z06-corvette.com