1969 Corvette ZL-1 427
The ZL1 engine was as exotic of an engine that could have ever been developed given the parameters Chevrolet had to work with 30 plus years ago. The all aluminum 427 ZL1 was patterned after the cast iron 427 L88, but it wasn't merely just a change of the block casting material. The ZL1 had beefier bearing journal web areas, and external web braces at places such as the front of the block where the intake manifold bolts down. There are extra bolt pads inside the lifter valley under the intake manifold to allow for extra head bolts. The aluminum block had iron cylinder sleeves, capability for dry sump oil system and optional gear drive for the camshaft. The ZL1 camshaft was a higher lift and different duration than the L88.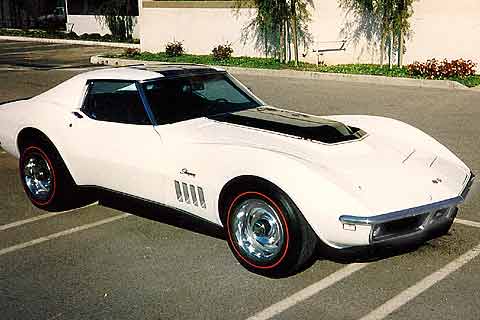 The ZL1 motor was developed by Chevrolet with the intended purpose of racing. Therefore it was necessary for Chevrolet to produce it as a regular production motor to qualify it. But it is likely that without the efforts of Zora Duntov the engine would never have made it to production. Chevrolet produced the ZL1 motor as a RPO (Regular Production Order) option in 1969 only, and only available as a RPO option on the Corvette. Additionally there were 1969 ZL1 Camaros produced; but only as COPO (Central office Production Order) orders.
This ZL1 Corvette is one of only two 1969 ZL1's sold to the public. Why were only two sold when it was such a great engine option? It was the added cost of approximately $6,000 for the ZL1 option that discouraged sales. This more than doubled the cost of the Corvette resulting in a total cost over $10,000. It would be a good guess that prospective buyers opted for the more cost effective L88 cast iron motor, which appeared to have the same horsepower; for a lot less than the $6,000 that Chevrolet wanted for the ZL1.
This ZL1 was delivered new to a Chevrolet Dealer in Salt Lake City Utah, as shown through NCIB Bureau records; which have the original dealerships to which cars are delivered new. The first owner of this ZL1 Corvette was Jack Cheskaty. Jack is currently the US Treasury IRS Director for the Rocky Mountain District of five states. In phone conversations with Jack Cheskaty, he tells of his purchase and ownership of this factory original ZL1. Jack remembers very well the original Chevrolet window sticker on his Corvette with the ZL1 option. Jack states: "there was no mistaking that option as it essentially doubled the price of the car". Kevin has the signed notarized affadavit from Jack Cheskaty, on his official IRS letterhead, to which he unequivocally states the above. Jack's regret of course; is having let go of this ZL1 Corvette in 1970, not realizing what a valuable car it was destined to be.
Jack traded his ZL1 late in the year of 1970, after drag racing it and only owning it for a year and a half. The last time this Corvette was seen by Jack; it was headed for circle track racing and was highly modified, flares, fuel cell and all. The car was not seen again until 1978 when Jack wrote a letter to then Vette Vues editor Errol McCoy telling of his ZL1; but not knowing where it was, or who currently owned it. The letter from Jack was published in Vette Vues in 1978 and set off a nation wide hunt for the car. It was eventually found by Dick Ferrando by finding the second owner, and by obtaining the owner history through DMV records. Kevin has this complete DMV owner history of the car starting from Jack Cheskaty to the present.
Some of the other history in the file Kevin has of this ZL1, is the racing contract between Jack Cheskaty and Woody Walcher & Associates Racing team. Woody has also provided a signed affadavit of this corvette as being a factory original ZL1. Kevin has a 1970 Race Program from Midway Dragstrip in Grand Junction Colorado with this Corvette under Cheskaty's name. Also has some original photos of this ZL1 on the dragstrip, with the name "Predator" on the side. Another item is the original letter written by Jack Cheskaty in 1978 to Vette Vues. It is on Jack's personalized stationary with envelope and 15 cent stamp postmarked 11-15-78 and was recently given to Kevin. It had been retained by Errol McCoy in his files, after he had left Vette Vues Magazine.
This ZL1 is now restored to original showroom condition. Along with its ZL1 option are the J50 power brakes, J56 heavy Duty Brakes, F41 suspension, K66 Transistor Ignition, G81 Posi Rear Axle, M22 Muncie Four Speed, F70x15 Red Stripe tires, A01 Tinted Glass and Front Louver Trim. It has been Bloomington Gold certified and featured in many magazines and numerous books. Through the years in magazines such as Motor Trend, Corvette Fever, Vette Vues, Classic Auto Restorer, Corvette Quarterly, Vette, Musclecars, and hard back books such as Automobile Quarterly, Corvette-The Complete Illustrated History, Corvette-Americas Sports Car, and American Muscle to name a few.