2008 Pratt & Miller C6RS Jay Leno's Corvette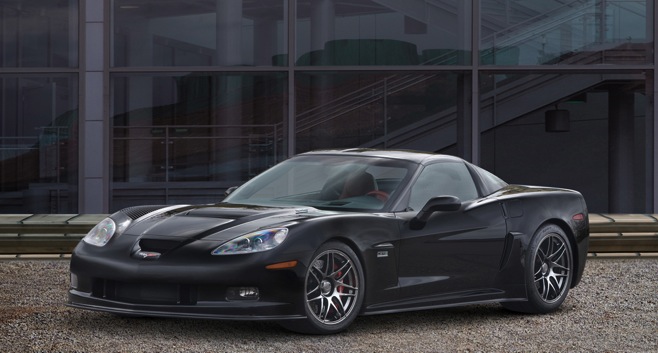 "Tonight Show" host Jay Leno's predilection for performance cars is no secret, but many fellow enthusiasts may not know that he is keenly interested in alternative fuels. To prove that red-blooded power mixes easily with a touch of green, Leno partnered with Pratt & Miller – the engineering company that builds and campaigns C6.R Corvettes – to develop a modified Corvette Z06 that is capable of running on E85 ethanol. It was unveiled at the 2007 SEMA Show.
More than merely a conversion of the stock LS7 engine to E85 capability, Leno's alternative-fuel supercar is powered by a custom, 8.2L (500-cubic-inch) all-aluminum small-block V-8 that pumps out approximately 600 horsepower and 585 lb.-ft. of torque.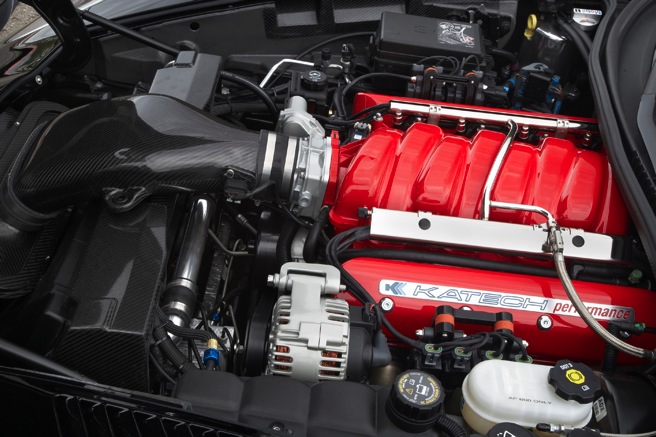 "The C6RS is the result of an idea we hatched to prove that high-performance cars and alternative fuel technology weren't diametrically opposed concepts," said Leno. "I love the idea of having 600 horsepower at my disposal, but using a homegrown alternative to gasoline."
The engine is built around a custom aluminum cylinder block that was CNC-milled from a single block of billet aluminum. And while the cylinder heads, intake system and dry-sump oiling system are stock LS7 components, the engine – which has larger bore and stroke dimensions than the 7.0L (427-cubic-inch) LS7 – uses a one-off reciprocating assembly, including a forged steel crankshaft, forged rods and forged pistons. Katech Engines, the company that builds engines for the Corvette C6.R racing program, developed the engine.
The fuel system and engine control computer were modified to accommodate E85, and spent gases exit through a Corsa exhaust system. Supporting the 600-horse engine's power is a blueprinted and strengthened T-56 six-speed transmission and a high-performance Centerforce dual-friction clutch.
C6.R inspiration
On the outside, Leno's bad and black C6RS emulates the styling of C6.R racecars, with wider front and rear fenders and a wider rear fascia with an integrated spoiler on top and a racing-style diffuser at the bottom (the diffuser incorporates an LED-lit backup lamp). A C6.R-style waterfall hood front fender louvers, rockers and lower grille opening further define this special Corvette – and all of the car's front-end panels are made of carbon-fiber, including custom brake air ducts routed through the front fenders. With all of its body modifications, Leno's C6RS is 1.6 inches wider than stock.
The C6.R's – and production Corvette's – aerodynamically styled bodywork is designed to slice efficiently through the wind, which helps enhance fuel mileage.
The race-ready look of the car is enhanced with a quartet of BBS wheels that feature racing-type locking center hubs. The forged aluminum 18-inch front wheels and 19-inch rear wheels ride on Michelin P295/30ZR18 and P345/30ZR19 tires, respectively.
Adding authenticity to the car's custom bodywork was the involvement of Pratt & Miller. The company took on the task of crafting Leno's Corvette into a street-going replica of the racecars, which included installing or fabricating a host of unique components, including:
• A custom DeWitt high-capacity radiator with dual cooling fans
• A carbon-fiber ram-air induction system
• Carbon-fiber inner fender panels that vent hot air from the engine compartment
• Brembo brakes with six-piston mono-block calipers in front and four-piston rear calipers
• Dyna-Mat used throughout the cabin and chassis to reduce interior noise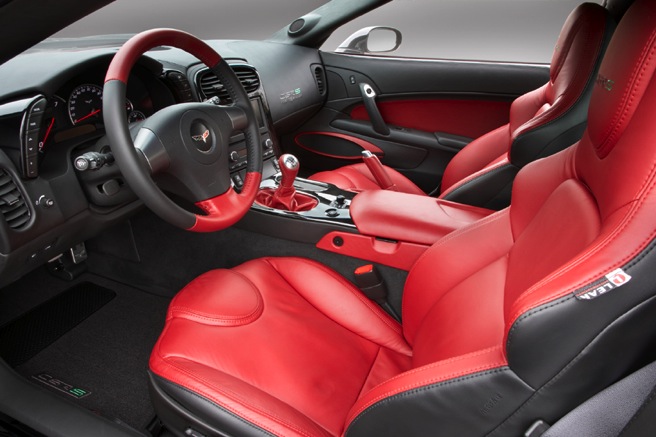 While the exterior and drivetrain were inspired by the racetrack, the C6RS's cabin exudes luxury, with premium touches and enhancements from Genuine Corvette Accessories that include a two-tone shift knob and boot; leather-covered console armrest, parking brake handle and boot; an interior trim kit, racing-style pedal covers and more.
With its 600 horses on tap and domestically produced E85 fuel in the tank, Jay Leno's alternative-fueled C6RS is an all-American supercar that proves high performance and environmental consciousness go together like the Corvette and checkered flags.