1988 Callaway Sledgehammer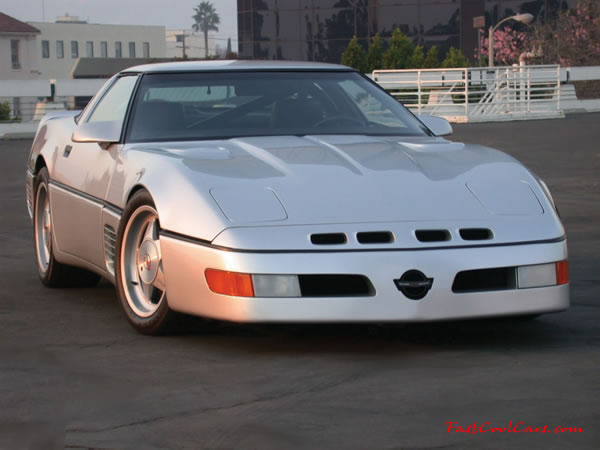 The Chevrolet Callaway Corvette Sledgehammer was a one-off example produced to beat the top-speed record for a motorcar. Reeves Callaway headed the team of engineers who successfully produced a 255 mph car for the road. The team used an '88 production Callaway as a base, car No. 51. Callaway Corvettes are famous for their twin-turbo design, and that concept carries through to the Sledgehammer. The engineers stretched the engine to 898 bhp by using huge Turbonetics T04B-series turbos, increasing the boost and replacing parts of the engine with higher quality materials. The engine long block itself has little in common with the stock version L98. The block is a NASCAR series Chevrolet special product. Cylinder heads are made by Brodix, connecting rods are hand balanced. The rods carry special Mahle pistons. The Camshaft is made by Cam Techniques with full roller gear. They commissioned Paul Deutschman of Deutschman Design to develop the Callaway Aerobody for stability.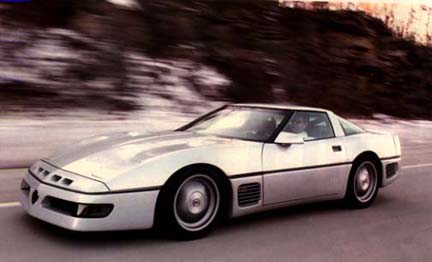 To keep everything cool, a huge copper/brass radiator with a G&O; core was engineered, mounted on a steep angle and fed through ample openings in the nose. It's also supplemented by two electric fans mounted on a fabricated bracket. Power delivery goes through a Doug Nash 5-speed built to GTO racing specs and fitted to a special overdrive unit through a special adapter.
The Callaway Corvette Sledgehammer recorded its mind-boggling top speed of 254.76 mph (409 km/hour) on October 26th of 1988 at Transportation Research Center, a 7.5 mile oval with steeply banked turns and straightaways that stretch to the horizon. The car was driven by John Lingenfelter on Wednesday after prior successions of engine misfiring. However, the Sledgehammer is not regarded as the world's fastest production car because only a single unit was made, unlike the 240 mph McLaren F1 of which 100 units were produced.
The body design of the Sledgehammer was used as an example when developing the SuperNatural
Aerobody
.
Engine Twin Turbo V8, Horsepower: 898, Torque: 772 ft/lbs = 1045 Nm
Performance 0-60 mph 3.9 seconds
0-100 mph 9.4 seconds
0-1/4 mile: 10.6 seconds @ 127 MPH
Top Speed: 254.7 MPH (409 km/hour)