1956 Harlow Curtice SR-2 Lookalike
High ranking GM people often had customs built for themselves. Bill Mitchell was known for it. This one was built for GM president Harlow Curtice.
Harlow Curtice was president of GM during the period that the SR-2 was developed. The lookalike below was built by GM's styling staff and presented to him. Curtice's car was fitted with Daytona wire wheels instead of the Halibrands used on the racers. This car was built on car #1636 coming off the assembly line in 1956.
This Corvette was delivered new to the General Motors Technical Center in Warren, MI as Ordered by Mr. Harlow Curtice, GM president. The car was then extensively modified as a SR-2 (a showcase vehicle for new technology). It is only one of 3 or 4 such vehicles, and from most accounts the most original. It was the only SR-2 designed to be street driven.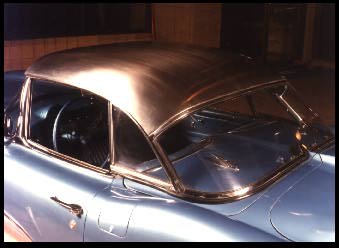 Factory options:
101 Heater
102 AM Radio, Signal Seeking
107 Parking Brake Alarm
108 Courtesy Lights
109 Windshield Washers
290 Whitewall Tires
426 Power Windows
473 Power Operated Folding Top
GM modifications:
SR2 Bodywork
Extended nose and futuristic "louvered" hood, a hint of 1958 production styling.
Large chrome turn lamps below headlamps.
Anodized aluminum side coves with scoops.
Special "Shark Fin" trunk lid.
Chrome plated brass side trim.
Brushed stainless steel hardtop w/ blue leather headliner.
Back up lamps.
Special prototype hood with louvers and custom chrome support. This futuristic hood style shows up in 1958 production cars. This specific hood weighs about IOOLBS!
Special under door courtesy lamps.
Stainless steel trimmed doorjamb step plates.
Special hand fabricated hood latches.
Custom mix Blue Metallic paint (Mr. Curtice's personal color).
Special emblems.
Hand fabricated fan shrouding and hood locks.
Mechanical modifications:
Special engine- 283 CI with Fuel Injection (only street 1956 so configured).
Special transmission- T-10 Borg-Warner 4-Speed (only street 1956 so configured).
Dayton knock off wire wheels.
3:36 differential.
Cosmetic modifications:
Custom leather seats (blue matched to the exterior).
Custom leather/chrome door panels.
Special carpet/mats (Blue matched to paint).
Stainless steel gauge/dash panel.
Day/night rearview mirror.
Seat Belts.
Special trunk trim and floor mats.
Fiberglass spare tire board.
Special SO (special order) tag 90101 6-5-56 screwed to Right Hand cowl area.