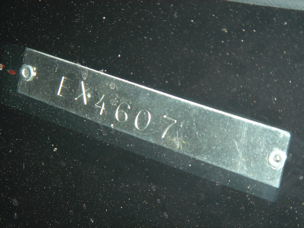 The EX4607 Story.

Corvette historian Tom Falconer describes his unique 1988 Corvette GM Engineering Mule.

"My 1988 Corvette is no ordinary C4 coupe, but a GM Engineering test mule with VIN plate EX4607 proudly displayed in the windscreen, built in 1986 to test all the new-for-1988 features. This actual car must have spent weeks pounding round the General Motors Proving Ground at Milford, Michigan with longer runs on the road, testing all the changes for a year which saw the C4 suspension, steering and brakes vastly improved.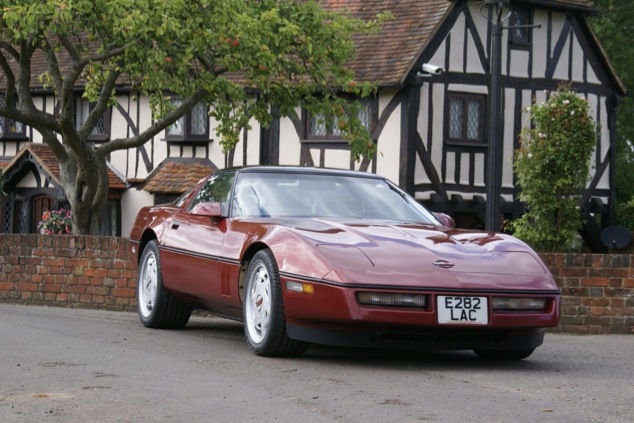 That duty done, it was among a batch of Corvettes sent to England to assist in the development and packaging of the King of the Hill double overhead camshaft LT5 engine for the ZR1. This was designed by Lotus Engineering of Hethel, Norfolk starting 1986, and finally saw production for the 1990 model year. While Lotus designed the LT5 engine and subsequently tested the ZR1 package another British design company Hawtal-Whiting Ltd of Leamington Spa, Warwickshire were appointed to develop the body and chassis modifications needed for the new engine. They already had a long-term relationship with GM, and were working on the development of the 1988 Reatta for Buick. GM sent them engineless 1986 Corvettes to design wiring, hydraulics and instrumentation interfaces of the new engine. It was they who registered EX4607 at their local LVLO as E282 LAC in January 1988. After its UK engineering assignment it should have been returned to the USA or crushed, but it was eventually sold to a farmer in Essex in the early nineties and I bought the car from him in 1995. A previous trade buyer had pulled out when he could not analyse the VIN using the Corvette Black Book, and did not believe it could be a prototype, declaring it 'dodgy as a two-bob note' so the farmer was pleased when I bought it. The foot-wells were full of winter mud from the farmer's boots and the engine was in serious need of a distributor cap and rotor arm, but in 1995 this was still the current Corvette and very desirable. These were tough times, so when a French dealer offered me a £3,000 profit on EX4607 his I accepted immediately, let a piece of Corvette history slip away and spent the next 14 years regretting it.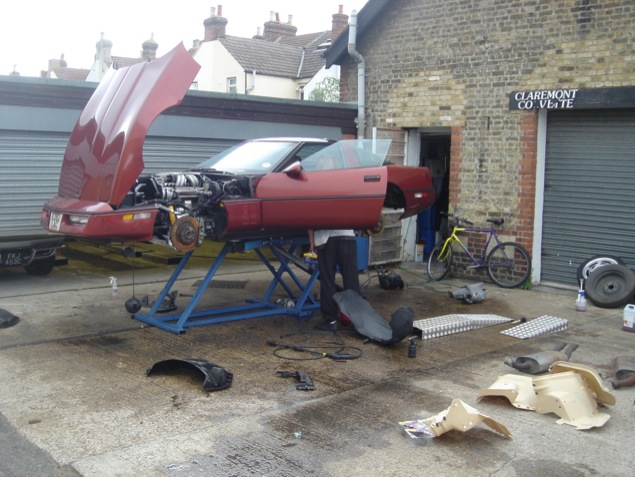 This year I was lucky to be offered the car back by its third French owner, and I had to have it. It lacked the critical European Certificate of Conformity essential to register it in France and had been driven for 14 years and 47,000 miles on its UK plates. When I previously owned the car I thought it was probably a production 1987 coupe with an EX VIN plate attached, but over the ensuing years I realized this was unlikely. I had since learned that an additional VIN is stamped on this model on the outside of the frame rail in front of the left front wheel, hidden by the front inner fender, and I often wondered what it would reveal. We unscrewed this and to my delight found EX4607 stamped into the vertical face of the rail. So was this an all matching numbers car too? On C4s the engine stamping is always hard to see, but removing the diverter valve and the compressor bracket revealed one more secret that I had not looked for back in 1995. The first Flint Engine Plant stamping was ZLA (350 TPI with automatic) and the date March 26th, but the important number EX4607was there too. Amazingly there was also a cancelled earlier stamp of EX46017 where someone had lost concentration, added the extra digit, and then had to start over. It was probably built on the at Bowling Green production line early in 1986 production, but pulled off the line prior to collecting a production VIN, a procedure used for Corvette race cars at that time.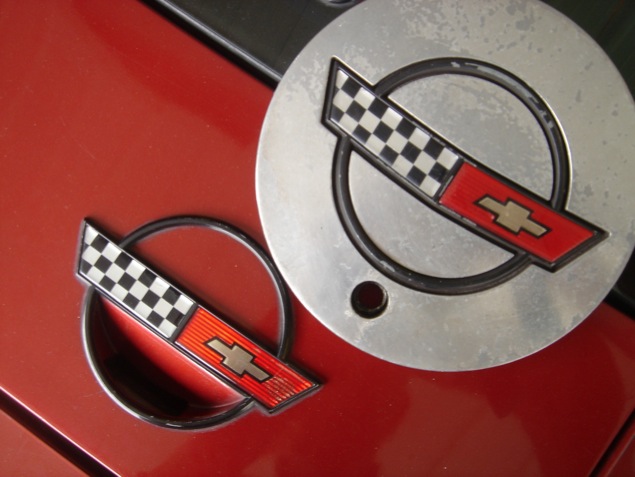 With the car up on the lift we removed the wheels and the inner wings to reveal and record the many CPC Engineering and EX4607 prototype stickers which were still attached to the suspension components, brake discs, bonnet panel, even the right hand door and carefully cleaned everything. The CPC Engineering stickers had survived twenty-one years of European weather, but to keep them safe for another twenty, we wrapped them in clear waterproof tape. They record preliminary part numbers, issue dates and most importantly the exact weight in grams - essential to achieving a low-mass car and critical to meeting fuel economy targets. The cush-drive pellets in the headlight motors had turned to dust, but when we replaced them we found that the motors were non-matching prototypes for the improved 1988-96 design, stamped with EX numbers and driving unique hand-built prototype rotating mechanisms. The telescopic bonnet stay, also suitably stickered, was provided with upper and lower pivot brackets on the right as well as the left side finally adopted for production. The unused 17" compact spare wheel carries a tyre embossed 'not for sale' and like the jack a CPC Engineering sticker. On the underside of the rear transverse spring the word 'prototype' is scrawled in yellow paint-pen. Most striking from the outside are the prototype 17" wheels with their unique oversize emblems on the bolt-in centre caps. One of these was missing its chequered flag, but a 1986 nose emblem was perfect match and fit – all credit to GM for producing a better proportioned smaller emblem for the production 1988. When the clamshell bonnet is opened one is immediately struck by the pristine cream-coloured prototype inner wings. Open the doors and the prototype new-for-1988 carpeted door steps obviously don't match and the sample label on the back from Stevens Auto Products says the colour is Medium Cognac, while the rest of the car is carpeted in samples labelled Light Saddle that made production as Saddle. Medium Cognac is listed in the 1988 Parts Book, but this interior colour never made it to production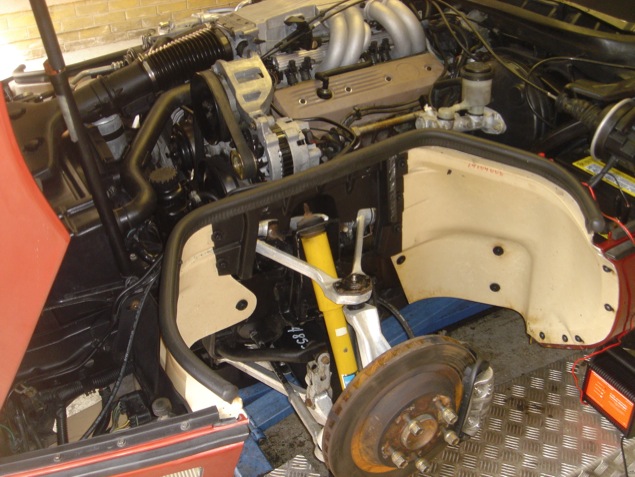 The car is rich in interesting detail, and there is much more still to discover, but my favourite so far is the message found above the upper inner wheel arch when it was unscrewed from the hood – "Ron- first shot 88 'Y' W/H upper 1/19/87 - Lowell". I needed to track down GM Engineers Lowell and Ron who were working at the GM Tech Centre in Warren, Michigan in January 1987, and put the problem to NCRS stalwart Jack Humphrey. He contacted Art Armstrong who quickly told me that Ron was a Ron Burns, a GM Corvette Body Engineering manager now sadly deceased. When a version of this story was printed in my monthly column in Corvette Fever, it was seen by Lowell Richcreek who contacted me in March 2010 to say that he was the Lowell who wrote the message on the upper inner fender. He was working for General Tire & Rubber Company, which was then the leading body panel for the Corvette. He was with them from 1962 until retirement in 1996, and still drives a 2001 Corvette.
Now I am trying to find someone, anyone, who remembers my EX4607 Engineering Mule in the years 1986-1987 when it would have been around Detroit, Bowling Green and the Milford Engineering Centre. There must be a register of EX numbers issued but who has it? Was my all numbers-matching EX4607 assembled at Bowling Green, or from components sent to CPC Engineering at Warren, Michigan? If you know anyone who might help, please contact me tom@tomfalconer.com . Meanwhile I am enjoying plenty of fast road-driving in my very own C4 Mule with 6-character VIN, and proof of continuous registration in the UK since 1988."
Versions of this story have appeared in American Car World and Corvette Fever.