1955 EX87
Late in 1955, before the name "Corvette" became a household word signifying America's sports car, a young Russian-born Chevrolet engineer named Duntov was toiling away almost anonymously in an effort to make his leftover factory mule into a record-breaker.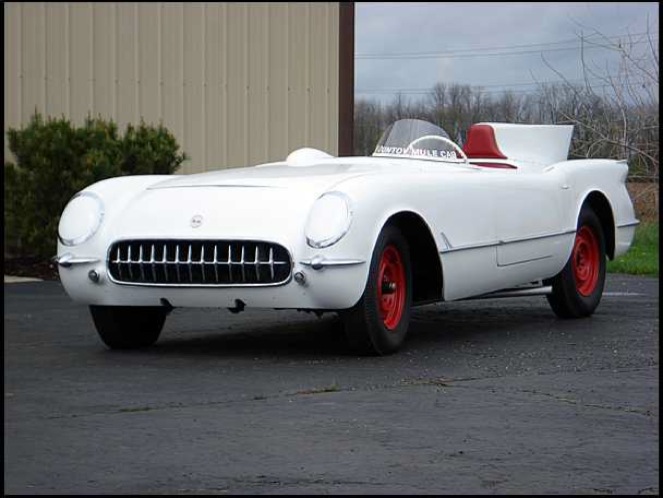 Over a year earlier, Chevrolet Chief Engineer and three-time Indy 500 winner Mauri Rose had Daytona legend Smokey Yunick install an experimental V-8 engine into a 1954 Corvette test mule, which was given the factory designation EX87. When its testing duties were completed, it was given to Zora Arkus Duntov at Chevrolet Engineering to prepare for a high-speed record run at Daytona Beach in January 1956. It was assigned a new tracking number, 5951.
Duntov modified the car by replacing the windshield with a curved plexiglass windscreen and fitting a fiberglass tonneau cover over the passenger side of the cockpit. Borrowing from recent Jaguar practice, Duntov also fabricated a fiberglass headrest-tailfin for high speed stability. Duntov increased the engine displacement from 283 to 307ci and ordered a special camshaft from Engineering before loading EX87/5951 onto a trailer and heading for GM's Arizona Desert Proving Ground.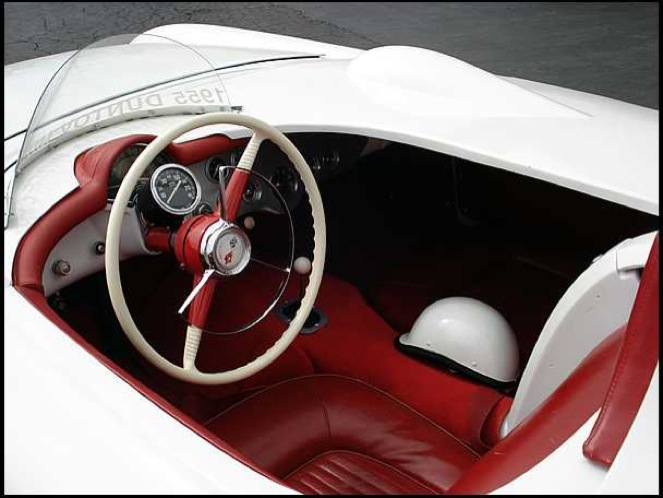 After initial resistance from Engineering, Duntov's cam was delivered to the Proving Ground, where it earned lasting notoriety as the "Duntov cam" by helping the car blast off to a record 163 miles per hour, an astounding figure in 1955. That same engine was later installed in another famous Corvette, 6901, which set a new record at Daytona of 150.583 mph.
Smokey Yunick passed away in 2001. His widow called Smokey's old friend Steve Tate to come to Daytona, saying that she had "some stuff around the shop" and he should see if there was anything he wanted. That was when Steve discovered an engine marked "Record Run"- the very engine Smokey had installed in EX87/5951 46 years earlier.
After an extensive search Tate discovered the car itself, and purchased it along with its original Chevrolet experimental log book. Working in concert with a small cadre of close friends, Tate then began an enormous year-long restoration project, returning the record-setting engine to its first home and bringing the car back to its original configuration as Zora's famous test bed and the world's first high-performance Corvette. Upon its completion EX87/5951 was featured at the 2003 Bloomington Gold Corvette show.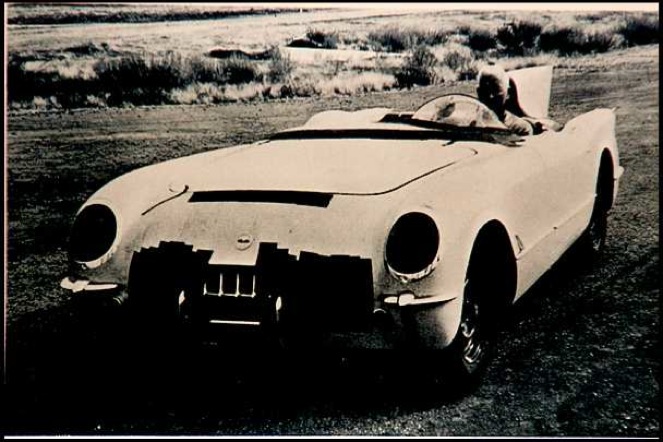 An incredible piece of Corvette history, EX87/5951 is the forebear of all the great Corvettes that have followed in its path.
Highlights:
- The original EX87 Arizona Proving Grounds record car, 163 mph
- Original engine installed by Smokey Yunick in 1954
- First Corvette to run the famous "Duntov cam".
- Purchased from the Bible Broadcasting Company
- Restored to its original configuration as prepared by Duntov
- The first true high-performance Corvette in history
Thanks:
Mecum Auctions (pictures)