1959 Stingray Racer XP-87
In 1959, the bones of the SS were revived when Bill Mitchell secretly funded the Stingray race car. Mitchell purchased the chassis of the 1957 SS race car mule for $500 and had a design team create a new body.
Peter Brock was working for this team and he was so kind to personally provide me with his memories of this exciting period:
"I worked for Bill Mitchell in Research Studio B under studio boss Bob Veryzer where the Stingray project was hatched in late 1957. As you know the AMA ban on "performance" was then in effect so Mitchell had to be very careful that upper management didn't learn about his plans to create a "new Corvette" as that would have been in direct conflict with top management's directive. This is why the project was initiated in secret, downstairs in Studio B, instead of "upstairs" in the main Chevrolet studio. Under Mitchell's direct guidance, with influence of what he had seen in Turin that summer (Alfa Romeo Disco Volante, etc) the main themes of the XP87 were laid out. Among the dozens of sketches on the walls were mine. Mitchell warmed to what I had drawn and encouraged their development until he saw what he deemed "the direction" in November of '57."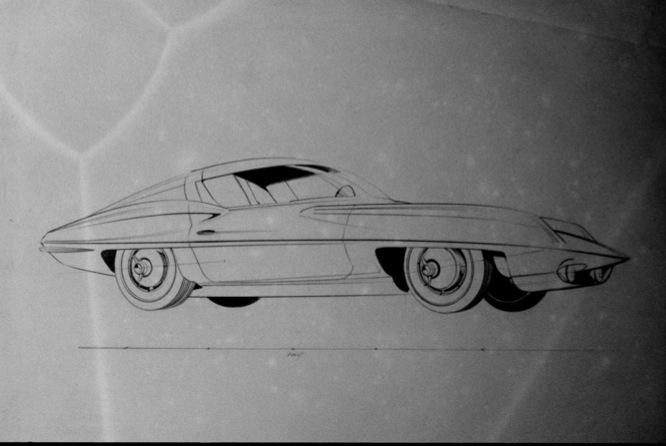 Peter Brock continues:
"It was still a coupe concept at that time. He wanted to build that car but since he funded much of the XP 87 project out of his own pocket he had to compromise on something less complicated. When he acquired the SS Corvette mule chassis (Sebring '57) he decided to build a prototype Corvette that could be raced, so the concept shifted toward a roadster that he would sponsor and race "privately". That open topped version of my design became the Stingray "Racer" that Dick Thompson drove the SCCA national Championship. After removing the roof from my scale model of that design (done by fellow designer Chuck Pohlmann) the project was then moved upstairs in to a secret studio (called the "hammer room" because it was behind the walls of a tool room) that Mitchell had built just for that purpose. There it was modeled in full scale and detail finished by Larry Shinoda and Tony Lapine. (who later went on to head up Porsche design). Once the "Racer" had been seen in public and was well accepted Mitchell returned to the idea of further refining the "Racer" into what would become the '63 Stingray "split window" coupe. That car was based on my original coupe sketch of November '57, but was again refined by Larry and Tony, as I was already working on another project."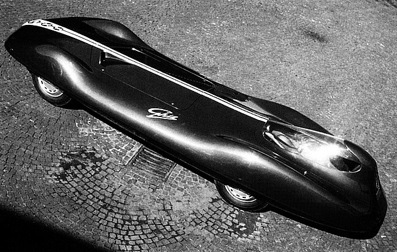 The shape of the Stingray racer was also inspired by the 1957 Ghia IXG Turin show car, designed by Tom Tjaarda.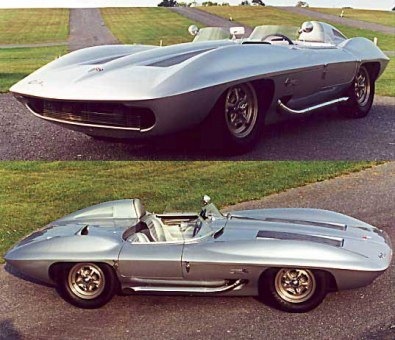 The Stingray used the same design elements as the
"Q-Corvette"
design study as well as the SS underpinnings, featuring a 92-inch wheelbase. The new car was exceptionally light, with a dry weight of 2,200 pounds, nearly 1,000 lb lighter than a 1960 production car. Its fuel-injected 283-cubic-inch (4.6-liter) V-8 engine produced 315 hp at 6,200 rpm. The car had a thin fiberglass skin with aluminum (initially) and balsa-wood (later) reinforcements in high-stress areas. The Stingray was a test bed for many technical developments with a four-speed manual transmission, extensive use of aluminum and a de Dion rear suspension. The Stingray exists today with a 327 cubic inch (5.4 liter), fuel-injected V-8 of 375 hp (280 kW).
Billed as a car "built to test handling ease and performance," Mitchell arranged to race the car quite extensively. In the hands of Dr. Dick Thompson, it made its debut at Maryland's Marlboro Raceway on 18 April 1959, finishing in fourth place. It went on to win an SCCA National Championship in 1960. The Stingray was then retired from racing and modified by Mitchell with, among other things, a passenger seat added.
The modified vehicle was exhibited as an experimental show car even while Mitchell regularly drove it personally on weekends. After its career as a concept car was finished, it was retained by the GM Design Studio as a historically significant vehicle.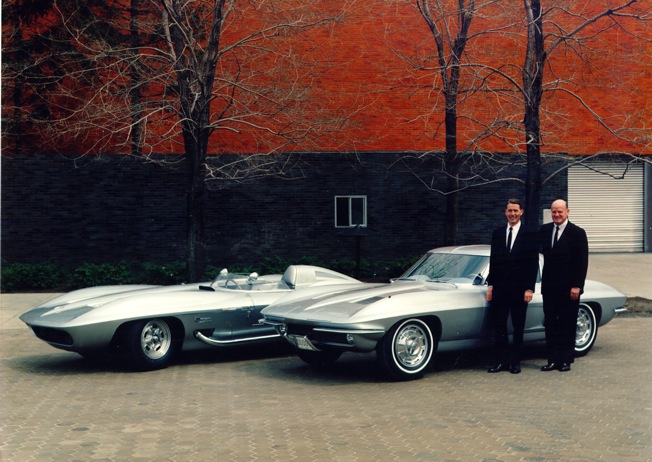 When an all-new Corvette finally arrived in the 1963 model year, the origin of its distinctive shape was quite evident. The "mid-year" 1963-67 second-generation Corvettes are considered by many enthusiasts to be the ultimate in sports car design. In its October 2004 issue, Automobile magazine editors ranked a 1967 427 Corvette roadster number one on its list of 100 Coolest Cars.