1955 Cadillac LaSalle II Roadster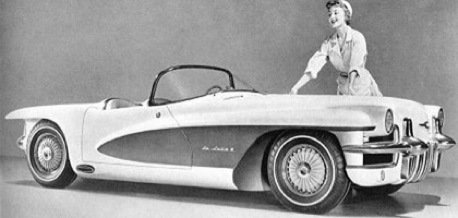 In 1955, Harley Earl's Art & Colour Section created two Cadillac LaSalle II dream cars for display in their GM Motorama shows: the LaSalle II four door hardtop and the LaSalle II Roadster. The Motoramas of the 1950s were showcases of technical and styling innovations which toured large cities of North America.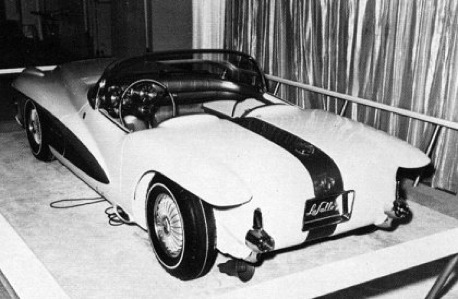 The LaSalle II Roadster featured unusual open rear wheels. Both LaSalle's wore 1940 style vertical grille openings, Dagmar bumper guards and the 'LaS' insignia as used in the marques early years.
The cars also featured the side coves which would later appear on the 1956 Corvette. Most onlookers thought the Buck Rogers styling ridiculous. The uni-body construction methods did prove predictive. The sills served as main structural members and housed exhaust components. Interestingly, these cars were the inspiration for the front end design of the 1957 Plymouth, when Hal Pilky (Plymouth chief designer) went to the New York auto show and saw the roll-under LaSalle II grille and decided that was what he wanted on the Plymouths.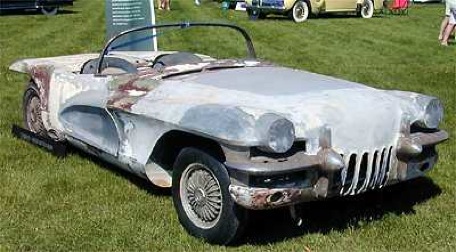 Sent to the crusher, both the four-door hardtop & the roadster were instead hidden in the back corner of the Warhoops Salvage Yard and were acquired circa 1990 by Joe Bortz, a Chicago area nightclub owner who has made a significant investment in restoring General Motors Motorama cars.